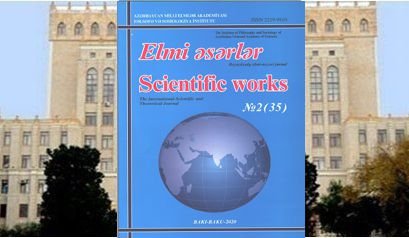 In this issue of the journal (No. 2 (35), 2020) you can find the following interesting studies:
Eynulla Madatli, Arash İftikhari (Azerbaijan) "Iran's attitude to patriotic war of Azerbaijan: traditional approach and new realities", Kerem Karabulut (Turkey)
"The socio-economic effects of the pandemia process", Etibar Najafov (Azerbaijan) "Anti-semitism: essence, historical forms and current state", Ali Ibrahimov (Azerbaijan) "Philosofhical approach to god, homeland and human understanding in Ramiz Rovshan`s poetry" Birgit Biehl (Germany) "The ethics of the use of the new technology", Naila Asadova (Azerbaijan) "The post-modern paradigm and its main historical forms", Mahmud Haydar (Lebanon) "Sadraddine al Shirazi's approach to the Koran. The perfect wisdom in the transcendent philosophy", Halima Gafarova (Azerbaijan) "The problem of socio-philosophical reflection in modern period", Seysenbay Kudassov, Maksad Alipkhan (Kazakistan) "Thoughts of the wise hikar and Abai about morality", Vahid Akayev (Russian Federation) "Naqshbandiyya tarikat in Dagestan and Chechnya: mysticism, ghazavat and muridism". Orkhan Naghiyev(Azerbaijan) "The question of political morality in ancient Greek philosophy", Emil Kazimov (Azerbaijan) "Modern international relationship with globalization",
READS OPINION
İrada Zargan (Azerbaijan) "About Arzu Ashraf Haciyeva's work "Azerbaijani thinkers in the context of time: hermeneutical experiences".